Ijen Blue Fire Tour Package
Ijen Blue Fire Tour or Ijen Blue Flame Tour package. https://bromosunrisetours.com/ . Cheap Price to visit Ijen From Surabaya, Malang, Banyuwangi or Bali. In Ijen Crater there is a special phenomena that we call as Blue Fire or Blue flame, which coming out from sulfur mining  caused by activities sulfur gases coming out of the crater. To see this Ijen Blue fire tour we can be starting at 01.00 and will gradually disappear before sun rise time at 04.00.
Ijen Blue Fire Tour package is need 2 days 1 night trip . Use your time during your tour in Java to visit Ijen Blue fire tour to improve you experience with enjoying one of two blue fire or Blue Flame phenomena in the world, to the summit track ijentour only about 3 Km. Ijen bluefire tour package can started from Surabaya/ Malang /Banyuwangi or Bali. Depend on your trip for visiting East Java.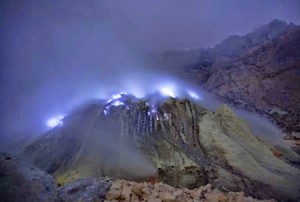 BromoSunriseTours.Com and Travel Service offer you the Ijen Blue Fire Tour Package with duration 2 days 1 nigh to enjoy Blue flame phenomena that organized at midnight
Ijen Blue Fire Tour Travel Itinerary
Detail rundown program of Ijen Blueflame Tour Package 2 days 1 nigh are as follow:
Day 1 : Surabaya  – Ijen Plateau Area – Hotel in Ijen
   1. The first day, Pick up from Surabaya or Malang Airport
   2. Then tranfer to Ijen plateau/kawahijentour Banyuwangi with duration 8 hours drive
   3. Arrival in Ijen plateau, check in hotel in Ijen and free program.
Day 2 : Ijen Crater Tour  – Surabaya/Bali
   1. Pick up from Hotel in Ijen transfer to Paltuding the ranger camp.
   2. Start the trekking from Paltuding to reach Ijen Crater, by walking on approx 3 km on the route of sulfur porters.
   3. Arrive on the rim of the crater to enjoy the Bluefire/blue flame that appear on the Sulfur mine
   4. Back to start Point
   5. Paltuding to re-join the private transport back to Hotel
   6. Arrive at Hotel, pack up and check out the tranfer out to Surabaya or Malang Airport or we can tranfer you out to Ketapang harbor Banyuwangi if you will continue to Bali.
   7. End trip of Ijen Blue fire Tour Package.
Mount

Ijen Blue Fire Tour Price

?
Please Contact us
Inclusions of Ijen Blue flame Tour Package
   1. Private transport (Petrol, driver and full Air COnd)
   2. 1 night Hotel in Ijen
   3. Entrance fee for object ijen blue fire tour package
   4. Local Guide
   5. Mineral drinking water
   6. Toll and Parking
Related trip of Bromo Sunrise Tour :