Kawah Ijen Tour 2 Days 1 Night or  Ijen crater Tour from Surabaya, Malang, Yogyakarta is visit Mount Ijen Volcano or Crater which is located at Distric Banyuwangi and Bondowoso.  Ijen  Plateau  has Area  of Tourism Park or Nature Reserve part of Alas Purwo National Park
Mount Ijen Volcano is lies at an altitude of 2.368 meters above sea level. The center interest  is the crater which is located in the middle of the largest caldera on the island of Java. The size of the caldera about 21 kilometers. The size of the crater itself is around 960 meters x 600 meters with a depth of 200 meters. This crater is located at depths greater than 300 meters beneath the caldera wall.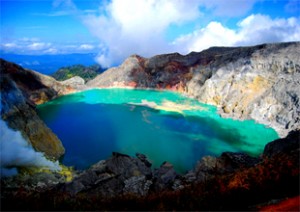 For details trip of  Kawah Ijen Tour 2 days 1 night are as follows:
Day 1 : Surabaya Airport – Kawah Ijen Tour
Pick you up by our private car on your arrival in Surabaya airport, go direct to area of Kawah Ijen Bondowoso or Banyuwangi with duration 8 hours driving, lunch time on the way at local resto, arriving in Ijen area chek in hotel  and fell the local atmosphere. Visit Blawan Waterfall
Day 2 : Ijen Volcano Tour – Surabaya Airport
Ijen Volcano Tour will started at 04.00 am and pdrivePost Paltuding with duration trip 45 minute , accompanied with our guide and tell you more information about Ijen. Arriving at Paltuding breakfast for a moment and start trekking to the crater with duration 1.5 hours or 2 hours for Asian people, arrive on the top explore the beautiful scenery in the crater with many workers and sulfur which is coming out from the tube, relax with to take picture about Ijen, after satisfied back to the bottom and transfer back to the hotel, to take shower loading your bag and check out from the hotel then proseed to transfer to Surabaya Airport. End program of Kawah Ijen Tour 2 days 1 night.
Related os Bromo Tour  :