Semeru Bromo Ijen Trekking Tour Package
Semeru Bromo Ijen Trekking Tour Package – BROMOSUNRISETOURS . Semeru Bromo Ijen Trekking Tour Package is adventure trekking tour to Mount Semeru/Mahameru, Mount Bromo and Ijen Crater. Best combination of Semeru Trekking and Bromo Ijen Tour . Semeru, Bromo Ijen which is located in East Java.
Semeru Bromo Ijen Trekking Tour Package needs duration trip in 5 Days 4 night tour. By start trip from Surabaya,to Mt Semeru continued to Mt Bromo and the last is visit Ijen Crater (Kawah Ijen) Banyuwangi/ Bondowoso.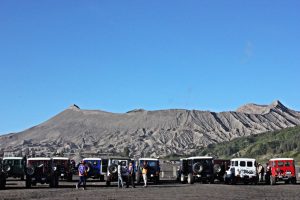 Semeru Bromo Ijen Trekking Tour Travel Itinerary
Itinerary of Semeru Bromo Ijen Trekking Tour Package 5D/4N is as follows :
DAY 01: SURABAYA /AIRPORT/HOTEL/TRAIN STATION – MALANG
Semeru Bromo Ijen Trekking Tour Packagestart by pickup you up at your arrival in Juanda Airport Surabaya (Train STation or hotels) then dirrecly drive to Malang , its take 3 – 4 hours trip, overnight at Hotel in Malang City or around at Tumpang Village. Rest and stay overnight
DAY 02: MALANG – SEMERU TOUR (Ranupane,Ranu Kumbolo Kalimati Camp) (B,L,D)
After breakfast and prepare anything your needs drive around 1,5 hours by 4wd Jeep from Malang/Tumpang to Ranupane Village. After permit climbing clear start trekking to Ranu Kombolo , rest and lunch here. After that continued climbing to Kali Mati Camp site its take about 7- 8 hours, Rest and overnight at Kali mati Camp
DAY 03: MOUNT SEMERU TREKKING TOUR to SUMMIT (3676 M) – TOUR BROMO (B,L)
Mount Semeru Trekking start for summit at 01-02 am, trekkinh around 3-4 hours to the peak of Mount Semeru (Jonggring Saloka). After quite satisfied enjoy panorama and seunri at Mt Semeru down back to Kalimati Camp, breakfast and descend down to Ranu Kumbolo. REst and lunch here. Continued back to RanuPane Village. Upon arrival at Ranu Pane with 4 WD Jeep drive to Cemorolawang Bromo , its need around 1,5 hours driving. Stay overnight at Hotel in Cemaralawang Area.
DAY 04 : MT PENANJAKAN SUNRISE TOUR – MOUNT BROMO TOUR – MT IJEN (B,D)
Penanjakan sunrise tour start in early morning around 0330 am drive by 4WD Jeep crossing sea of sand to catch and see wonderfull panorama bromo sunrise from peak of Mt Penanjakan. In this place view point enjoy the magnificent view of Mount Semeru, Mt Batok, Mt Putuk Kursi and Mt Bromo. Finish see sunrise drive back to cross of sea sandy area. Stop at jeep parking area hiking to rim of Mount Bromo crater. Back to hotel breakfast, short rest and chek out. Continued trip to the nearest village in Kawah Ijen area . This trip around 5 hours driving chek in hotel stay overnight.
DAY 05 : IJEN TRIP AND EXCURSION – SURABAYA (B)
Trekking Mount Ijen start at early in the morning 04.30 AM, driving for 45 minute to Post Paltuding and trekking to Ijen Crater around 2 hours hiking. Enjoy Ijen blue lake and panoramas. After explore of ijen volcano, descend down back to Paltuding and leave the Mt Ijen transfer out back to Surabaya or Ketapang fery Harbour to Bali . End program Semeru Bromo Ijen Trekking Tour Package
Semeru Bromo Ijen Trekking Tour Price 2020

Please contact us
Price include :
– Private Car AC and
– Jeep 4WD
– Ticket and Insurance Permit for Semeru Bromo Ijen Trekking Tour Package
– Porters Team
– Tent, Matress and Sleeping Bag
– Hotel Accommodation in Tumpang
– Hotel Accommodation in Bromo area
– English Speaking guide and Profesional for Semeru Trekking
– Meal with B,L,D Condition
Price exclude:
– Air Fare and Airport Tax
– Personal Travel Insurance
– Additional meal, Soft drink, Refreshment
– Personal Expenses
– Tips.
Related trips
For more details about Semeru Bromo Ijen Trekking Tour Package please contact us.
Related Bromo Tour Package : Yogyakarta Bromo Ijen Bali Tour